women's clothing sizes
Women's clothing sizes
use our clothing size chart to help determine your best fit.
to determine your size, take measurements of the following areas:
bust
the fullest part of your bust. keep the measuring tape horizontal.
hip
the fullest part of your hip. approximately nine inches below your waistline.
waist
the slimmest part of your waistline, above your naval and below your ribcage.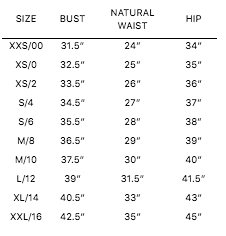 know it fits before it ships. answer a few easy questions, and in less than 60 seconds (and no measuring necessary!), you'll find out what size is just right — just for you. after you create your account, your true fit rating and recommended size will display on product pages for women's clothing and shoes.
related topics